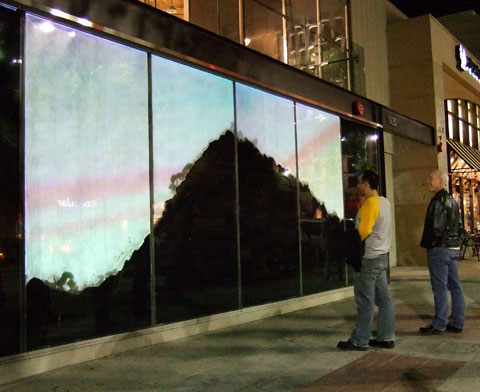 The Antmaster Iteration #1A
- tempera paints, ant projections, audio
The Antmaster is the first in Gil Kuno's experiments in hybridizing Dynamic Media (projections) with Static Media (paintings.) Digitally projected images of live ants are superimposed onto painted surfaces to achieve a new amalgam of motion and still images.
In addition, nanosounds of ants moving and communicating were recorded in Jim Gimzewski's nanoscience lab to act as a soundtrack to the pieces.
The first incarnations were presented on a storefront in the heart of Westwood, Los Angeles. Documentation video below. (Needs newest Quicktime.)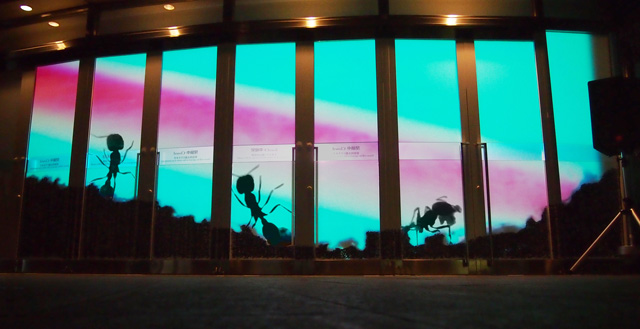 The Antmaster for Roppongi Art Night
- tempera paints, projections, audio
The Antmasterのテーマは「カルマ」です。カルマ即ち業(ごう)とは仏教の基本的概念、業はその善悪に応じて果報を生じ、死によっても失われず、輪廻転生に伴って、代々伝えられると考えられています。業を解消するために人は一生をかけて善行を積む必要があるという思想です。
Antmasterではカルマを解く為に働く人間の姿を蟻に置き換えて表現しています。生きたアリの映像が、過去のカルマ(業【ごう】)を消したいと願う祈りの文字が、無数に書かれた黒いパターンの上に投影されています。黒い壁面は、数分おきに照らされ、銘文を浮かび上がらせています。前世のカルマを消して、真の自身を知ろうと懸命に働く姿をアリに託し、東洋思想と人生を考えるビデオ・インスタレーションです。アリの鳴き声や足音などを捉えた「ナノ・サウンド」が地底から響く呪文のように聞こえて来ます。
Antmasterは動的メディアと静的メディアを融合したメディア実験でもあります。背景部分は黒いペンキで業を解く為のマントラ(呪文)を繰り返し塗ってあり、この巣に蟻の映像を映像で重ね打ちすることにより、静的メディアと動的メディアの新しい相乗効果を生み出そうとしました。
Other iterations:

The Antmaster II
– 4 iterations of the Antmaster at the Bermant gallery, Los Angeles with 2 pieces projected onto painted canvas. Click photo for documentation.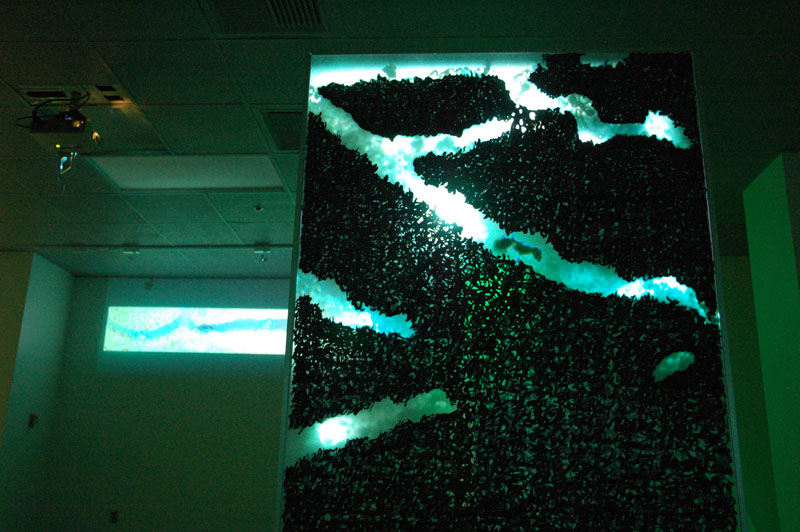 The Antmaster Iteration IV – 3 iterations of the Antmaster were presented at the Art|Sci gallery, Los Angeles, with the theme for the exhibit being "Karma." The main piece projected onto an upright sheet of plexiglass. Click photo for documentation.
GIL KUNO: THE ANTMASTER
THANKS TO:
Uncle Milton Industries for Ant Farm, Victoria Vesna, Jim Gimzewski, Art|Sci Center, The Bermant Foundation, Everyone at D|MA, Rebecca Allen, Rebeca Méndez, Togo Kida, Shaun Westbrook, Peng.
Ant Sounds courtesy of Jim Gimzewski and Paul Wilkinson of the Nanolab.